February 15, 2018
In the News
Merritt receives preliminary OK for 20-story office tower in Canton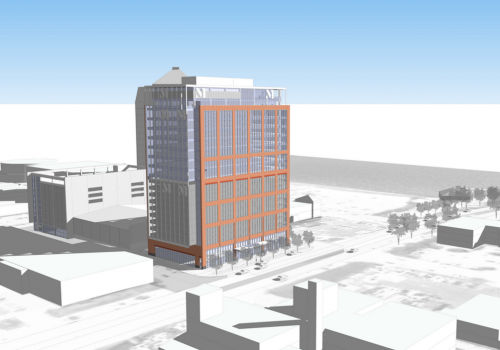 By Melody Simmons - Baltimore Business Journal
Preliminary designs for a 20-story office tower near Canton Crossing were given a thumbs up by a city panel on Thursday.
Merritt Properties' $70 million tower would flank its neighboring Boston Street gym, which debuted an expansion on Thursday. The proposed tower would have 9,000 square feet of retail space at street level and a rooftop conference center.
"It's a great start," Richard Burns, a local architect and member of the Urban Design and Architectural Review Panel, said of the building.
Merritt unveiled the plans before the panel, which voted to approve the schematic designs with recommendations.
Architects Hord Coplan Macht are set to return to UDARP with some changes in the near future.
The 20-story, 200,000-square-foot office tower project is the next step in an ongoing expansion of the waterfront east of the Inner Harbor and it would serve as a gateway to another planned development by Corporate Office Properties Trust. That project would cost $1 billion and span 10 acres of the waterfront.There is no timetable on its development, COPT officials have said.
During the UDARP meeting, the plans by Merritt were given an overall approval — except for a terra cotta "screen" that was designed to decorate the front of the glass and concrete building along Boston Street. The panel members also expressed concerns about the need for a 10-floor, 550-space parking garage at the development as commuting patterns are in flux.
"It might be worth a look to rescale it back," said UDARP member Richard Burns, noting that several buildings with large parking garage options built in have become empty spaces as ride sharing, Uber and Lyft options have become popular.
Merritt Properties officials agreed.
"You need to supply what's good for the next five years, but technology is changing," said Gary Swatko, a planner with Merritt Properties, after the meeting. "We are flexible and open to any ideas that could work. We're going to study it."
The tower will be located next to the Merritt Clubs newly designed and expanded gym. It will also be near the 17-story CareFirst tower completed in 2006 by former First Mariner Bank CEO Edwin F. Hale Sr.
It is being built on spec without any signed tenants, Merritt officials said this week. Groundbreaking had not been scheduled but it is expected to open in 2021.