January 8, 2018
Press Releases
Merritt Properties Secures Additional Capital Investment of up to $400 million from Almanac Realty Investors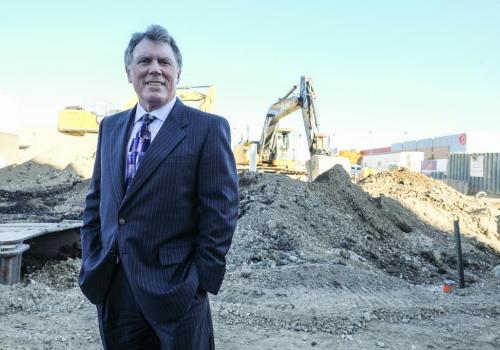 Merritt Properties announced today that it has entered into an agreement with an investment fund managed by Almanac Realty Investors ("Almanac"), under which the fund has committed up to $400 million of capital. It is expected that the investment will allow Merritt Properties to grow its portfolio by 20 to 30 percent through the acquisition, development and redevelopment of primarily industrial properties in the Baltimore-Washington corridor and other target markets.
"Our long-standing relationship with Almanac dates back to 1997 when we entered into an eight-year partnership with a $75 million commitment," said Robb Merritt, President of Merritt Companies. "Twenty years later, we are continuing that initial partnership with the same individuals and same company—that's a rarity."
Based in New York, Almanac is a leading provider of growth capital to private and public real estate companies. Founded in 1981, originally under the name Rothschild Realty, the group has committed over $4.8 billion to 39 companies pursuing a wide array of real estate opportunities.
D. Pike Aloian, a partner at Almanac added, "Almanac has enjoyed both excellent investment results and a great working relationship with the Merritt Properties team over the past 20 years. We very much look forward to our continued association with this talented organization."
"We are thrilled to work with Almanac as we enter our next phase of expansion, building upon our partnership's history and success," said Scott Dorsey, CEO of Merritt Companies. "We have a company that's been around for 50 years, and we want to position it to be around for another 50 years. This is not only about our company's growth, but the growth of our customers, employees and future partners, which adds to our sense of optimism and desire to be opportunistic."  
Merritt Properties owns and manages nearly 16 million square feet of central business district (CBD) and suburban Class-A and single-story office, flex and industrial warehouse, manufacturing and distribution facilities, high-tech data centers, mixed-use developments and retail locations. This portfolio, which is 94% occupied, includes approximately 1,200 customers ranging from local, owner-occupied spaces to national and international Fortune 500 companies.
"Expanding our relationship with Almanac through this deal will fuel continued growth for our company," said Merritt. "Most importantly, we have a lot of talented employees whom we consider family, and we want to provide them with opportunities for years to come."
###
About Almanac Realty Investors
Almanac Realty Investors is a leading provider of growth capital to public and private real estate companies. From the time of its founding in 1981, originally under the name Rothschild Realty, the group has raised over $5.0 billion related to a wide array of real estate opportunities.  Since 1996, Almanac's primary investment activity has consisted of making private placements of capital into public and private real estate operating companies.  Almanac managed funds have committed over 4.8 billion to 39 such companies in North America. For more information, visit www.almanacrealty.com.