February 16, 2018
In the News
Merritt Properties plans new office tower near the Canton waterfront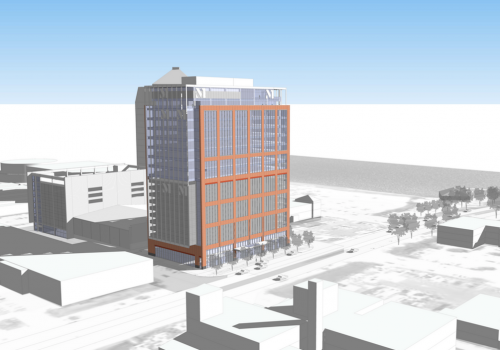 By Meredith Cohn - The Baltimore Sun
Baltimore developer Merritt Properties plans to build a 20-story office tower in Canton that will continue the transformation of the area's industrial waterfront.
Merritt and its architects showed preliminary plans Thursday for what would be a $70 million building fronting Boston Street, the thoroughfare that parallels the Inner Harbor, to the city's Urban Design and Architectural Review Panel. It would be built on a parking lot between the street and the Canton Merritt Club fitness center.
Merritt has announced no tenants for the new building but hopes to begin construction this year and finish in 2021, said Gary Swatko, Merritt's director of development and construction, who was among those representing the developer.
The structure will stack many floors of offices on top of multiple levels of parking and first-floor retail stores, according to renderings developed by Hord Coplan Macht architects.
The development will abut the Shops at Canton Crossing shopping center anchored by a Target, a Harris Teeter grocery store and, soon, a Nordstrom Rack. On the other side stands the 17-story CareFirst office building developed more than a decade ago by a 1st Mariner Bank executive who saw commercial potential along the working waterfront.
But that tower remains largely surrounded by parking lots and low-lying buildings. The Columbia-based real estate investment trust Corporate Office Properties Trust bought a harborfront parking lot just east of the CareFirst building in 2014 and proposed a large office project with four buildings, shops and restaurants, but not much has happened there since.
COPT could not say when the project might begin because it is seeking tenants before committing to construction.