August 23, 2019
Press Releases
Merritt Converts Former Lab in Owings Mills into Class A Office Space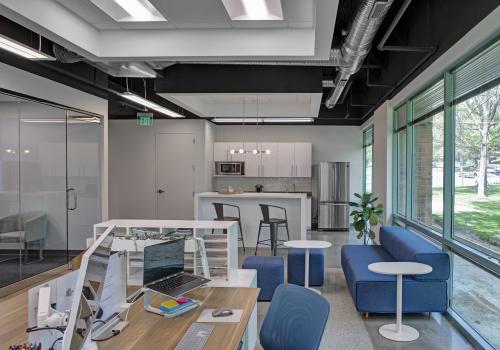 Merritt Properties partnered with Merritt Construction Services to convert a former research and development laboratory into a two-story, 63,000-square-foot Class A office space at 10065 Red Run Boulevard in Owings Mills.
Actavis, Inc., a pharmaceutical company specializing in the manufacturing of generic pharmaceuticals, utilized the building for 15 years as a laboratory to research and manufacturer generic pharmaceuticals. Prior to the renovation, Actavis merged with Teva Pharmaceutical Industries Ltd. and relocated their operations to Utah.
"Merritt Construction Services began the redevelopment in 2018 with the goal of delivering a modern building for a new customer base," said Pat Franklin of Merritt Properties' leasing team. "The main entrance was reconfigured and redesigned to feature a lobby with full-floor windows, a living wall, decorative art and lighting, and marble flooring. A newly added community space includes a micro market, creative seating, and an outdoor patio for Owings Mills Corporate Center employees to enjoy."
The project required the demolition of both the first and second floors. The office building is now equipped with a new HVAC system, LED lighting throughout, large format ceramic tiles in the lobby and bathrooms, an updated elevator interior, and bathrooms with showers. Merritt engaged a landscape architect to redesign the front entrance to incorporate a large patio area, an entrance canopy, and landscaped gardens. A second patio is available directly outside the community room.
Current building users include Choice Cybersecurity, CompuGroup Medical and Federal Specialized Services.
Choice Cybersecurity and CompuGroup Medical, Merritt customers since 2016 and 2013, respectively, relocated from nearby offices in Owings Mills. CompuGroup Medical moved from 10715 Red Run Boulevard to occupy 14,000 square feet, and Choice Cybersecurity moved from 10055 Red Run Boulevard to lease 1,700 square feet in the new building.
"Knowing Choice Cybersecurity needed to expand and after seeing the 10065 Red Run building, we quickly realized the building would allow us a state-of-the-art office to address our current and future business needs," said Steve Rutkovitz, chief executive officer of Choice Cybersecurity. 
A new Merritt customer, Chicago-based Federal Specialized Services, moved into 3,000 square feet on the first floor. "We were attracted to the idea of leasing office space in a building that was essentially brand new," said Paul Crofton, senior vice president of Federal Specialized Services. "We also liked the close proximity to I-795 and the Baltimore Beltway."
Franklin added, "The transformation of 10065 Red Run Boulevard can accommodate both smaller, single-user offices and larger tenants."
Approximately 40,000 square feet is available to lease between the building's second floor and a portion of the first floor.