March 20, 2017
Press Releases
Merritt Construction Services Wins Three Associated Builders & Contractors Awards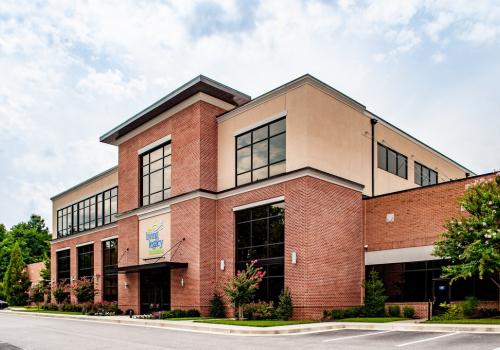 The Baltimore Chapter of the Associated Builders & Contractors (ABC), a non-profit trade association, has named Merritt Construction Services the winner of three Excellence Awards in their annual ABC Awards of Excellence Program. Merritt's Living Legacy Foundation project received the chapter's highest Excellence honor, and projects for NAFCO/Congressional Seafood and SC&H Group received Merit recognition.
An owner-occupied renovation project, completed in July of 2016, for The Living Legacy Foundation consisted of a two-phase buildout to renovates their existing space and expand their office from an existing 33,000 square feet to a total of 47,633 square feet, all while allowing the organization to continue operating as a 24-hour organ transplant facility. The construction was designed in two phases, with Phase I being a second-story addition with a new main entrance, and Phase II being a renovation of the owner's existing space on the ground floor to include new finishes throughout and a two-story lobby. Phase I of the project took just over eight months to complete, and Phase II took five months to complete.
In November of 2015, Merritt completed an 88,000-square foot industrial/flex build for NAFCO/Congressional Seafood, an over $1 million project to house the companies' new corporate headquarters and processing facility. Construction included a state-of-the-art seafood processing and production facility with sophisticated automated production equipment and specialty hand cutting lines, as well as a new, wharf-inspired office space for employees.
The SC&H Group interior fitout, completed in July of 2016 and worth over $1 million, featured a remodel of the first and third floors of an existing three-story brick building in Sparks, Maryland. The interior finishes in the 910 Ridgebrook Road building had not been updated since original construction in 1999. By updating 35,215 square feet of office space, the SC&H third and first floor renovation and construction added approximately 10,000 square feet of more usable space.
ABC's National Excellence in Construction program has become the premier competition within the construction industry that recognizes outstanding construction projects across the nation. The Excellence in Construction Awards celebration honors the nation's most innovative and high quality construction projects, safety programs and diversity programs.  
Merritt Construction Services will officially be recognized at ABC's Awards of Excellence Ceremony on April 12, 2017 at the Hyatt Regency Baltimore.
###
About ABC
Associated Builders and Contractors is a not-for-profit construction trade association working to promote the interests of merit shop contractors. With over 620 members, ABC Baltimore is the largest such organization in Maryland. Nationwide, ABC represents nearly 24,000 member firms in 70 chapters.
About Merritt Construction Services
With a project portfolio of nearly 16 million square feet, Merritt has been providing site development, general construction, redevelopment and interior build-outs for 50 years. Whether serving as general contractor, construction manager or design-builder, Merritt Construction Services offers full-service construction capabilities through all phases of development, from feasibility to commissioning. Merritt's highly skilled construction team has completed a comprehensive roster of customized projects, including corporate campuses, LEED-certified green buildings, schools, manufacturing facilities and retail centers.