May 27, 2021
Press Releases
Merritt Construction Services Starts Construction On Former Quest Diagnostics Site in Arbutus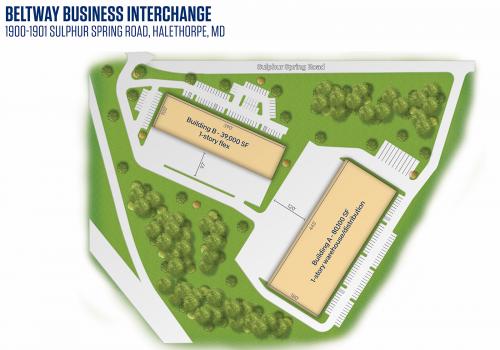 New Light Industrial Park Will Accommodate Continued Demand for Warehouse Space 
Merritt Construction Services announced today that it has started construction on Merritt Properties' newly acquired 16 acres of land at 1900 Sulphur Spring Road in Arbutus for development of Beltway Business Interchange, a light industrial park consisting of two buildings totaling 111,300 square feet of space. The site currently includes an obsolete office building most recently occupied by Quest Diagnostics. 
This purchase follows the commercial real estate developer's other recent acquisitions in Maryland, Virginia and North Carolina in response to the region's surge in demand for flex and light industrial warehouse space. 
"We have seen a dramatic increase in requests for light industrial space, with a solid mix of local businesses and large national corporations," said Merritt's Jamie Campbell, who will spearhead leasing efforts for the new project. "Most importantly, we want to be able to accommodate the growth needs of our existing customers, many of whom have been with us for decades. We want to continue to support them and be a part of their success." 
Beltway Business Interchange is situated along Interstate-695 at the Washington Boulevard exit, within a half-mile of two existing Merritt developments that total nearly one million square feet of space.   The area is experiencing historically low vacancy coupled with increased demand levels that are surpassing expectations in light of current economic conditions. In particular, Merritt has been challenged to accommodate small- to medium-sized businesses seeking 3,000-40,000 square feet of warehouse with some office and loading options. Beltway Business Interchange has been designed to fulfill these requirements.   
The project falls within the Southeast Enterprise Zone, providing real property and state income tax credits for businesses located within the designated area. 
"Baltimore County welcomes Merritt Properties' continued investment into key redevelopment projects," said Baltimore County Department of Economic and Workforce Development Director Leonard Howie. "We're excited that this important project will not only meet the growing demands of our innovative business community, but will also support the County's economic recovery by bringing new job opportunities to our residents."  
Beltway Business Interchange will feature two single-story buildings of 80,100 and 31,200 square feet.  With market drivers ranging from tech to medical to e-commerce, the park is designed to accommodate diverse warehouse and manufacturing requirements with clear heights of 18' and 28', large truck courts, traditional rear-loaded docks, drive-in capabilities and ample surface parking.  
Demolition of the existing structure will begin by early fall, with delivery of the new buildings planned for summer 2022.  Construction will be managed by Merritt Construction Services, the construction division of Merritt Companies. 
Jonathan Beard and Bo Cashman of CBRE National Partners represented the seller in the transaction.  
### 
About Merritt Properties 
Established in 1967, Merritt Properties owns the largest privately held commercial real estate portfolio in the region, offering 19 million square feet of Class A office, flex, warehouse, industrial, retail and build-to-suit throughout Maryland, North Carolina and Virginia. Capabilities include leasing, property development and management, and financing. Merritt Properties is committed to "Creating Homes for Businesses" and providing the highest quality service to its customers. For more information, visit www.merrittproperties.com.  
About Merritt Construction Services 
Merritt has been providing site development, general construction, redevelopment and interior build-outs for over 50 years. Whether serving as a general contractor, construction manager or design-builder, Merritt Construction Services offers full-service construction capabilities through all phases of development, from feasibility to commissioning. Merritt's highly skilled construction team has completed a comprehensive roster of customized projects, including corporate campuses, food processing facilities, LEED-certified green buildings, schools, manufacturing facilities and retail centers.  For more information, visit www.merrittconstruction.com.