August 23, 2019
Press Releases
Merritt Construction Services Breaks Ground on Two New Buildings at I-66 Business Park in Manassas, Virginia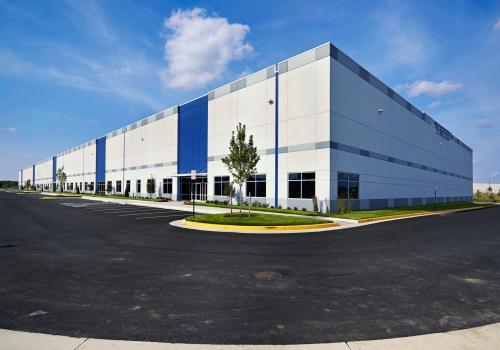 Merritt Properties has broken ground on two industrial buildings in the I-66 Business Park at the intersection of Balls Ford Road and Groveton Road in Manassas, Va. Construction is being managed by Merritt Construction Services. Once developed, I-66 Business Park will total 596,900 square feet among six properties. The first three buildings finished in January 2019 and overall occupancy hit 91 percent in July 2019.
"This Class A industrial development is designed to fill a void in the market, accommodate bulk and mid-sized storage users, and provide flexibility for growing businesses," said Shaelyn Mullaney of Merritt's leasing team. "The park is ideal for companies seeking prominent visibility along I-66 and spacious truck courts with ample parking."
Representing phase two of construction, Merritt Construction Services is currently building a 97,200-square-foot and a 137,350-square-foot warehouse with 24-foot and 32-foot clear heights, respectively. These properties offer 140 to 180-foot truck courts, dock and drive-in loading, and free surface parking. Delivery is expected to occur in December 2019.
"Thanks to partnerships within the brokerage community, the park features high-caliber customers from a variety of industries," said Mullaney. "We are experiencing strong pre-leasing interest given the demand for light industrial product in the market."
Current tenants include Able Moving & Storage, Mu-Del Electronics, SixFour3, Structural Technologies, Sunbelt Rentals, United Brokerage Packaging, and UNITS Moving and Portable Storage.
Located in Prince William County, 28 miles west of Washington, DC, I-66 Business Park is Merritt's first project in Prince William County. The development sits along Interstate 66 just east of the Prince William Parkway and the Route 234 Bypass. Merritt Properties acquired the 46-acre complex in 2015.
Visit www.MerrittI66.com for more information.