August 10, 2018
Press Releases
Construction Begins on New Building at Merritt's I-66 Business Park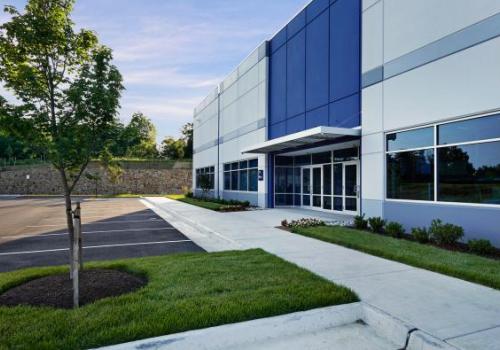 Merritt Properties is pleased to announce that construction has begun on its third building at Merritt I-66 Business Park. The park will eventually total six buildings consisting of 596,000 square feet of industrial space in Manassas, Virginia.
Although construction on the new building is not yet complete, the first lease was signed by Mu-Del Electronics, LLC for 19,358 square feet out of 30,600 square feet. Mu-Del, a company founded in 1967 to design, develop and manufacture high-quality RF & microwave products, plans to occupy their space at the start of 2019. 
Mu-Del Electronics anticipates doubling their employment within the next two years, prompting the need for a larger manufacturing facility.
"We have been located in the Manassas area for the past 20 years and look forward to continuing our business in Prince William County," said Trey Middleton, Director of Operations at Mu-Del Electronics. "As we looked at real estate options in the area, we recognized the unprecedented and significant value in teaming with Merritt Properties. Merritt's proven record at providing state-of-the-art manufacturing facilities, along with their willingness to tailor the facility to our needs, perfectly aligned with our business requirements."
Construction of the first two buildings began in March 2017 and ended in October 2017. To date, eight months following the completion of construction, 50% of the entire park has been leased. Customers include Able Moving & Storage, Blackthorne, Carrier Enterprises, Moving and Storage Solutions VA, Structural Technologies, and United Brokerage Packaging of North Carolina.
Merritt is developing the park to serve the increasing need for distribution space in the area.
"With the strength of the workforce and tremendous access to transportation systems, this is a great opportunity for the companies who choose to locate to this new park," said Michael Larkin of Merritt's Virginia office. "With the park's location, size and design, the buildings at Merritt's I-66 Business Park are ideal for a variety of industry sectors including life sciences, defense and federal agencies, advanced logistics, and advanced manufacturing."
Located in Prince William County, 28 miles west of Washington, DC, the property sits along Interstate 66 just east of the Prince William Parkway and the Route 234 Bypass. Frontage along I-66 draws an estimated average daily traffic count of 123,000 vehicles according to a report by the Virginia Department of Transportation.
"We are very excited to have Merritt develop this industrial park and make such a significant investment in Prince William County," said Jeff Kaczmarek, Executive Director of Prince William County Economic Development Department. "The park will be a great economic asset and provide product that is in great demand." 
Merritt's I-66 Business Park marks Merritt Properties' sixth development in Virginia. It is specifically modeled after Beaumeade Corporate Park, a six-building flex industrial business park totaling 472,913 square feet on Guilford Drive in Ashburn, Virginia. Additional developments include Ashbrook, Loudoun Tech Center, University Center and 20700 Loudoun County Parkway.
For leasing inquiries, please contact Keith Wallace or Shaelyn Mullaney of Merritt Properties at 703-858-2725.